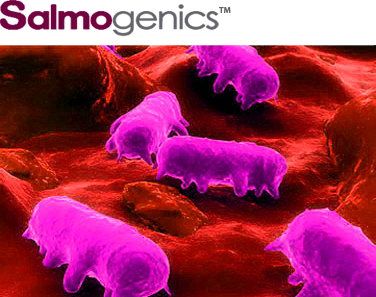 Global Green, Inc. introduces Salmogenics, a new patented vaccine to help combat the dangerous effects that Salmonella bacteria produce in animals and human beings. Worldwide, approximately 1.3 billion people contract some form of Salmonella annually. Two to three million of these infections result in death. Salmogenics stimulates a broad immune response to several intestinal pathogenic organisms, including Salmonella, in chickens produced from inoculated eggs. It may be administered alone or with other vaccines.
For chicken growers who grow 40 billion chickens per year for worldwide consumption, Salmogenics is very cost effective, reducing the cost of administration.
The vaccine is designed to bolster the immune system of the poultry, improving the health of the bird. The birds will be healthier and experience increased weight gain and reduced mortality, producing more meat to feed a hungry world.
This means not only a healthier chicken, but a healthier source of protein for humans!
[stock GOGC]
---
---
Global Green, Inc. plans to manufacture, market and sell the patented, exclusively licensed vaccine known as the "Salmogenics Vaccine." Salmogenics™ was developed by Nutritional Health Institute Laboratories, LLC, a research affiliate and majority shareholder, to combat Salmonella bacteria in poultry and eggs. The vaccine is currently in the last stage of the USDA approval process. The vaccine is unique in that it is injected directly into the egg, before the chick is hatched, improving the immune system, health and welfare of the chicken, and providing a healthier source of protein for humans.
View Stock Information